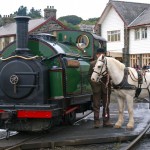 The Welsh Pony Restoration Project Prize Raffle held over the Vintage Weekend raised £419.47.
Winners have been contacted by telephone and a list of winners is in Spooner's.  If you are a winner please collect your prize from Spooner's.
The Vintage Weekend Volunteer Sunday Evening Special (beer train). Grateful thanks to Lawrence Washington of Purple Moose Brewery who donated the two 9 gallon casks of Snowdonia Ale which had been ordered for the train. The contents were sold for £2.00 a pint which raising a further £298.10 which was also added to the Welsh Pony Project Fund.  Thanks to all who participated!