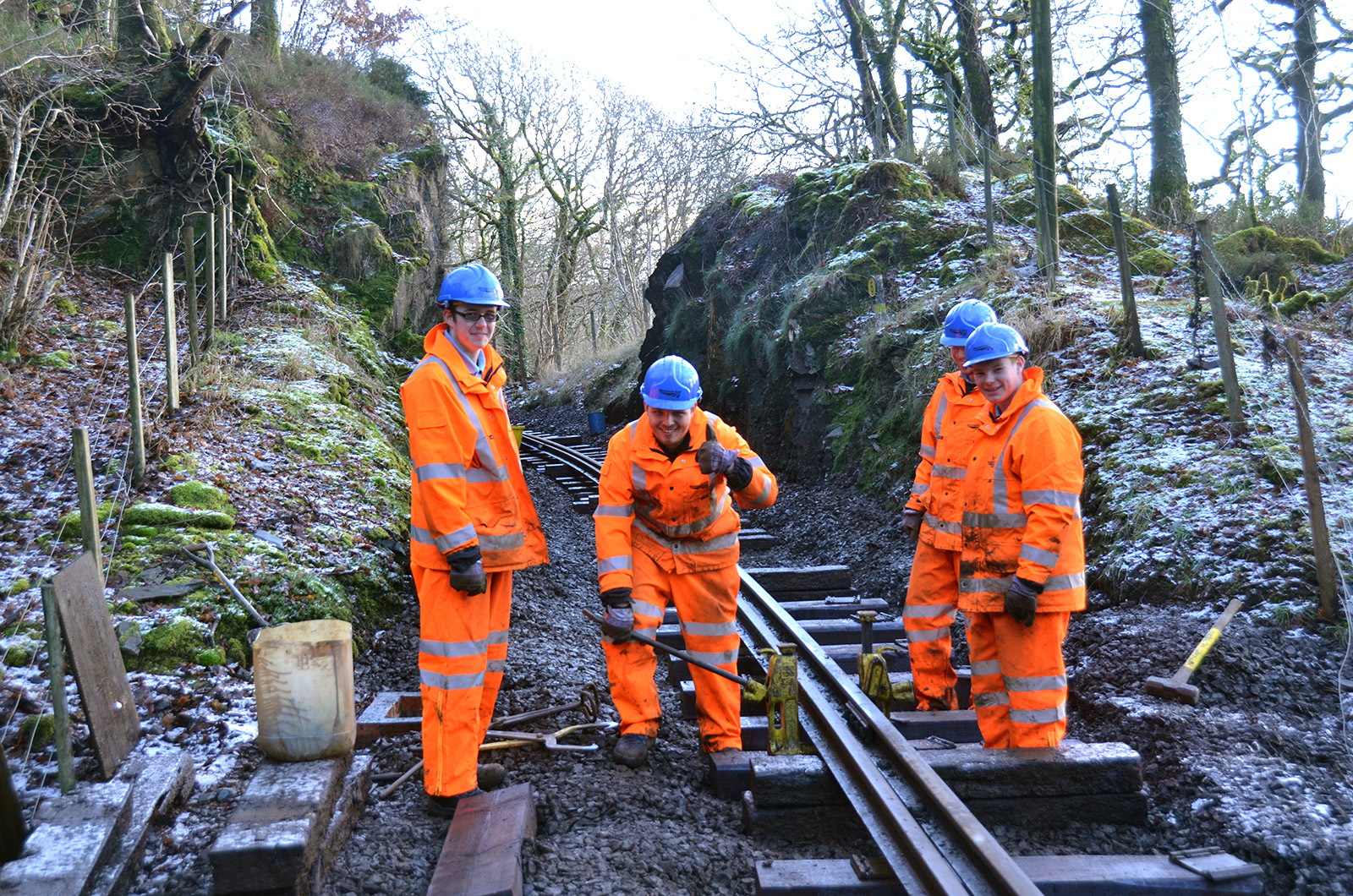 For the forthcoming winter we have an intensive programme of track renewal and maintenance planned. In order to achieve all our goals so that we have two fully operational railways by mid-February 2016 we need your help; so please take a look at the dates on the next page and see if you can come along and help.
The Permanent Way Department will at last be back to full strength by the end of October when we will have three new members of staff in place plus some additional help for the winter. They will be fully engaged throughout the week in pushing the track renewal programme on the Ffestiniog line but they will need the volunteer gangs at weekend to keep progress going. There will be contractors to do a lot of the heavy work.
The maintenance programme on the Welsh Highland line will be totally undertaken by volunteers and / or contractors. The jobs range from laying new track from Penrhyn Crossing through to Highgate Crossing to giving the WHR bridges a bit of TLC, as well as installing a new turnout for Boston Lodge Old Loco Shed and laying track on a new alignment on the WHR; with also a number of other vitally important jobs.
The Dee & Mersey Gang, the White Rose Gang, the Black Hand Gang, the Rest of the World Gang, the Tuesday Gang and the Tuesday Gang South will all be working hard doing their bit, not only at weekends but also during the week.
But we still want more, there are gaps at some weekends that we need to fill so come along as individuals or join together with your friends, neighbours or colleagues and form your own gang.
On the list of jobs, a red star means no volunteers have yet signed up for the task and there are a lot of red stars. Please help me get rid of them. If you can help or would like more information please contact Dafydd Thomas (07919 414877 / dthomas@ffwhr.com) or Alun Tomlinson (07919 414883 / atomlinson@ffwhr.com)